Picking the right ERP system can be a daunting prospect for any business, from the smallest operation to the largest corporation, there are lots of questions to be asked. One thing is for certain, the outcome remains the same, finding the right system to underpin your business needs, allowing you to keep track of your sales transactions, stock or services and one of the most overlooked and valuable parts of your business, your customer data.
Here at Layer 5, we try to unravel the mystery for you and place the right solution at the heart of your business, giving you the power to do what you do best – your business.
The two solutions we recommend are both cloud-based applications; Brightpearl, aimed at smaller businesses of 2 users and above, small retail outlets and 10 to 15 in a single warehouse and multi-channel sales operations, and NetSuite aimed at businesses from 10 to SAP style enterprise.

First of all let's talk about Brightpearl,  a business management application that incorporates inventory, accounting, CRM, POS and ecommerce, used by thousands of small to medium sized businesses world wide. If you can imagine your business as a single-warehouse (or store) location, selling products from a single legal entity but wanting to handle (near) real-time stock control and accounting across multiple sales channels (such ePos / instore, eBay, Amazon, and no more than a handful of ecommerce brands/sites) then it could well be the right-sized system for you.
We've put Brightpearl into businesses that range from the single-location retail outlet with a single website and a couple of users; through to large many-seat operations running multiple brands with 10+ operatives in various roles from sales to fulfilment to customer services. We understand the challenges faced by both of those business, and can advise where the solution is a fit, and just as importantly where there will be some challenges.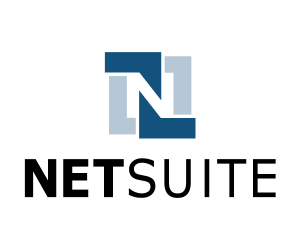 Then there's NetSuite, a business management suite used by over 20,000 businesses, that combines ERP, CRM, eCommerce and PSA, that provides real-time financial consolidation and visibility, including multiple currencies, taxation rules and reporting requirements across  geographies and subsidiaries.
If your business needs to handle multi-currency, multi-location, multi-language, needs to cater for a hierarchical legal structure (parent / child companies), or requires a very rich and detailed modelling of staff roles then Netsuite is likely to be the best fit solution. It is however, a large subject as Netsuite has many different flavours and vertical-market-specific offerings. We can help guide you as to the most efficient balance of modules and professional services required to bring your Netsuite solution to operation (and invariably this means replacing an incumbent system or two – so the rollout plan needs to gracefully de-risk the retirement of such systems).
For more information on how Layer 5 can help you unravel the mysteries of ERP and help you through the design, project management and implementation of your system, call 
0161 850 4545
or email
enquiries@layer5solutions.com