Having worked with Magento for some time now, we have tried a good number of configurations, all with varying levels of competence, but we have finally decided on two that we have tried and tested and can handle just about any Magento hosting workload you want to throw at them.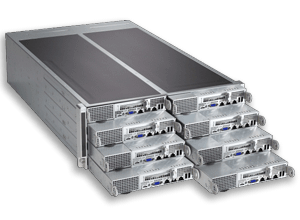 These high-end Magento server hosting packages are built to suit Brightpearl's whitepaper, "Optimising your Magento store for heavy API access".
Brightpearl's estimate on server hosting costs is based on traditional mechanical disks, but we prefer to use SSDs across the board, rather than say "oh but SSDs would be better", which the Whitepaper above tosses in almost as an afterthought.
We offer two solutions based on Dell and Supermicro chassis. The reason we use all SSDs is that Magento has around 10k file fragments in a standard installation so the disk has to work to pull many files in. SSDs therefore show noticable speed improvements in general Magento operation, not just at boot time, as there's no need to move a traditional spinning disc's read-head to collect all those Magento files.
The Dell solution is based on the 1U R6xx chassis and the Supermicro is based on their FT (Fat Twin) chassis
Both options include:
• IPv4 and IPv6 transit
• Stateful firewalling
• 150Gb FTP offsite backup space
• FreeBSD, apache, mysql, php
• all the high-end Magento API / memcaching / PHP threading tweaks
• one month rolling contract
If you are in need of more disk space then it's possible to increase the number of SSDs in the Super Micro, for price parity with the Dell. The Dell performs of the order a few microseconds better on front-end response due to the higher processor speed and hardware raid.

But with all the recommended caching techniques implemented on Magento it's negligible [most people's performance issues are configuration rather than hardware]
So we usually present these as 2 costing options, depending on cost vs (slight increase in) performance [people sometimes prefer the Dell as it's a more significant "name"], but the Supermicro can be expanded with an extra 2 SSDs [512 GB usable] to bring the cost in line with (but still slightly lower than) the Dell if disk space is the overriding factor.
The headline is that, whether or not you have external integrations via the likes of Brightpearl or other back-office / middleware solutions, you can have a Magento server that absolutely flies, is future-proofed, fully supported, all has all the performance optimisations from Operating System level upwards, and all of the high-tech datacentre features you would and should expect!
To find out more how Layer 5 can help you with your hosting solutions for Magento servers call 0161 850 4545 or email enquiries@layer5solutions.com